MODULAR HOMES 101: TERMS AND DEFINITIONS
A modular home is built using Building Systems, which is simply a systematic approach to building homes. The term Building Systems refers to how the structure is built rather than the form that it actually ultimately takes. All of our modular homes are constructed using this method. Inside a modular home building facility, experienced craftsmen and women construct homes in what are termed as units, sections, or modules.
People are confused about modular homes and the modular home building and buying process. Google search is evidence for this confusion. When we learned that there are thousands of searches each month for "what is a modular home" we were inspired to create this page. Let's clear things up.
Basic definition of a modular home:
Modular homes are houses built off-site, usually in an indoor, quality-controlled setting. Modular homes are completed in sections called modules, according to specific plans. These sections are then transported to the site where they are assembled by builders and installed into the foundations.
Modular buildings "are built to equal or higher standards as on-site stick-built homes. The building method is referred to as permanent modular construction."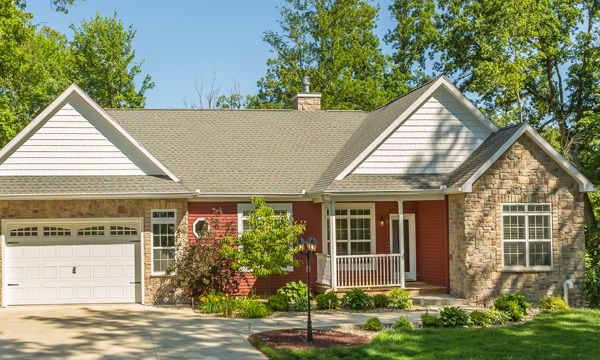 What Is a Prefab Home? And Other Terminology
Systems Built homes is the preferred term in the industry. Outdated terms include factory-built homes, prefabricated, or prefab homes. There are a few kinds of Systems Built homes:
Panelized homes (sometimes called flat-pack) — think Ikea, all the parts delivered to your site in boxes, unassembled.
Modular homes — everything assembled in a controlled environment off-site, shipped, and put together on site by your builder
Structural Insulated Panel — high-performance building system for residential and light commercial construction, manufactured under factory controlled conditions and can be fabricated to fit nearly any building design.
Concrete Homes — constructed with a variety of methods. Most have traditional concrete block walls, but more builders are choosing foam-insulated concrete forms (ICF), with their added insulation value and ease of use. Other approaches include cast-in-place and removable concrete forms (RCF), panel systems, and newer methods featuring aerated or sprayed-on concrete.
Log Homes — modular log cabins are constructed with a variety of methods, depending on the manufacturer. They are typically assembled in a factory and transported to the build site.
WHAT MODULAR HOMES ARE NOT
Sometimes people will ask us if modular homes are the same as a mobile home? It is not. Modular homes are very different from mobile homes and doublewides.
The only similarity is that modular homes are built off site and transported over the road. A doublewide or a mobile home is licensed like a vehicle, they depreciate and comply with a lesse stringent building code, called a HUD code.
Our modular homes are built utilizing building systems methods. They're built to the same building codes as all site-built homes and comply with all applicable national, state and local building codes.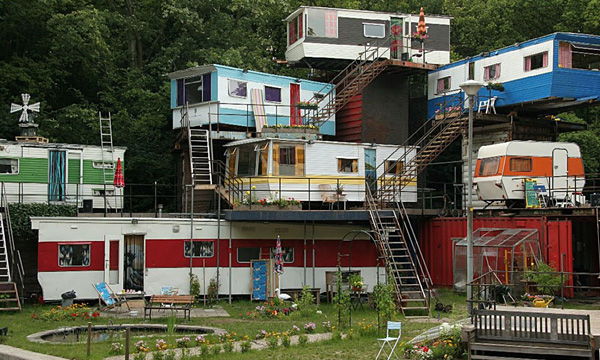 History of Modular Building Practices
Modular home building techniques have been used throughout history. Here are just a few of the highlights in the history of modular homes, from rudimentary prefabricated kit homes to the modern, sustainable techniques we know and use today:


---
1624
One of the first buildings at Cape Ann in 1624 was probably partially prefabricated, and was rapidly disassembled and moved at least once.
1855
During the Crimean War, after Florence Nightingale wrote a letter to The Times, Isambard Kingdom Brunel was commissioned to design a modular hospital. In five months he designed the Renkioi Hospital: a 1,000 patient hospital, with innovations in sanitation, ventilation and a flushing toilet.
1875
The world's first prefabricated, pre-cast panelled apartment blocks were pioneered in Liverpool. A process was invented by city engineer John Alexander Brodie.
1908
Prefabricated homes were produced during the Gold Rush in the United States, when kits were produced to enable Californian prospectors to quickly construct accommodation. Homes were available in kit form by mail order in the United States in 1908
Today
Modular home manufacturers are now incorporating modern design, low waste processes, green materials, and environmentally friendly finishes into their homes. Modular homes can be customized to the home buyer's specific location and climate, making these homes much more flexible and desirable than before.

What is the difference between Site Built and Modular Home? The short answer is, the only difference is that we build your home in pieces off-site and a site builder does it all on location.
The long answer requires a few more details. Here is a side-by-side comparison between modular homes and site built homes.
CATEGORY
MODULAR
SITE BUILD
Build
Process
Modular homes are built using Building Systems, an organized, efficient and detailed method. The homes are constructed inside by highly trained professionals. This saves time and practically eliminates waste and costly errors.
Homes are built to all applicable local, state and national codes and are consistently inspected for quality.
Site built homes are constructed from the ground up from building materials delivered to the job site by subcontracted trades of all varieties and skill levels that do not work directly for the builder. Materials are piled on site exposed to the elements.
There is only one adopted residential building code in your area. That is the code that site builders adhere to, as well as modular home builders.
Homes built via the modular method can be vastly customized to the last detail. Quality modular builders such as Rochester Homes offer floor plan collections with numerous different homes and styles as well as they can use plans that you provide as a starting place.
No need for costly architects, most company's can provide in-house engineering services. In most all circumstances they are able to help you achieve the style and design that you desire. In addition literally hundreds of options are available from which to choose. Planning is important so do your homework and you can have the amenities on your "must have" list.
Most site builders work from sample plans of homes that they offer or have built in the past. They may offer internal drafting services and may also work with an architect. In most cases customization is standard but can come with a premium cost.
Timeline
Depending on the complexity of your home, time savings is probably one of the biggest advantages to building a modular home. Most all producers of modular homes work on a schedule. You will be given an approximate time in which your home will go into production as well as when it is expected for the production process will be completed. Also your builder will give you a scheduled for time of delivery and the setting for your home. These times can vary according to builder.
The good news is that your builder is able to complete vital site preparations such as excavation and foundation work on your jobsite while your home is being built. The timeframe of building completing your home after it arrives at the jobsite and is set on the foundation typically ranges between 60 and 120 days. Also weather conditions factors in minimally due to the fact that the majority of your home is being completed in a climate controlled facility.
The normal timeframe for site building ranges from 6 months up to a year or more. This is partly due to a site builder's use and scheduling of sub-contractors. As well as many times work is slowed due to weather conditions.
CURB APPEAL
It is assumed that a modular home's exterior is identifiable due to less curb appeal than site built homes. This couldn't be further from the truth.
Achieving the curb appeal and roof lines that you desire is very accomplishable due to Computer Assisted Design. You can achieve various roof lines, dormers and window configurations that add architectural style to your home. After your home is completed it is almost impossible to discern the difference between a Rochester modular and a on-site built home.
A traditional site built home appearance can be customized to the homeowner's preference but can be somewhat painstaking. Exterior additions can frequently involve architects that can consume valuable time and money.
COST
You will determine your budget and your builder the final cost. That cost of the home structure itself will be a fixed cost, in which you will receive upfront. Generally modular homes are very competitive and frequently may be less expensive than site built homes. This is due to labor costs and efficiencies in building and volume purchasing. Due to fact that construction time is drastically reduced, your interest payments on your construction loan will be over a shorter time period – thus saving you money.
Site Builders tend to work on a cost plus basis where your home price can rapidly escalate resulting in you paying much more per square foot.
APPRAISAL AND RESALE VALUE
There is absolutely no difference in appraisals and the final resale value of a quality built modular home versus a site built home. Modular homes retain their value well and at the same rate as all homes built on site.
Site built homes are seen as the baseline when doing comparisons by realtors.
Watch Your Dream Home Come to Life
After the homes are constructed at the Rochester Homes plant, the modules are shipped to the site and assembled to bring your dream home to life. Want a glimpse of what goes into assembly day? We've got a quick 60 second time-lapse to show you just how simple it is to build modular your home when you work with Rochester Homes.
WHAT ARE THE BENEFITS OF MODULAR HOMES
There are countless reasons to build a modular home instead of a home built on site, but many people are unaware of all the benefits. In fact, lots of people even have negative impressions of modular homes, assuming that they're cheaply constructed or unattractive, even though the reality is far from that misconception.
In the case of Rochester Homes, our modular homes are built from the inside out, in the following order. First, floors are constructed. Then come the walls, doors, windows, cabinetry, plumbing, and electrical systems. At the end of the factory manufacturing process, the unit is approximately 80% complete and thoroughly inspected. All processes are documented and triple-checked for quality and consistency. Those units come together at the jobsite to create a fully functional and beautiful home. Modular units are typically 14 foot in width and can command over 60 feet in length.

Modular homes are cost-efficient, environmentally responsible, and made of long-lasting materials. They are also attractive, with great curb appeal that contributes to future resale value.

Cost-effective:
Modular homes are mass-produced, which means that manufacturers save costs by purchasing supplies in bulk. This doesn't mean your home ends up looking like every other modular home, though! There are many design options that will fit your preferences and needs.

Environmentally responsible:
The same manufacturing process that makes modular buildings less expensive is also the reason why these homes produce so little material waste. Fewer shipments of materials are required, as they are transported to their final location when they leave the factory. Your modular home is also extremely energy efficient, which saves you money as it protects the environment from unnecessary waste.

Long-lasting:
Did you know that modular builders use some of the most long-lasting materials available? Additionally, when you buy a modular home, you know that you're getting a brand new home, rather than buying an existing house that brings with it all the problems of age.

Attractive and stylish:
In-house designers who are familiar with the ins and outs of modular design software can create countless customizations and specifications for your modular home, ultimately designing a home that reflects your vision. No matter what you're going for--modern, sleek, classic, cozy, spacious, simple, or dramatic--there is a modular home that fits your design aesthetic.

A great investment:
Homeownership is an excellent investment, and modular homes provide you with a way to get into a beautiful, custom-built home more quickly than traditional building methods.
Can Modular Home Floor Plans Be Customized?
Yes! Customization means "to modify or build according to individual or personal specifications or preference." There are different aspects to customization regarding housing.
CUSTOMIZING THE FLOOR PLAN
At Rochester Homes, you can customize your home by presenting your builder with your own existing plan or by adjusting one of Rochester Homes' standard floor plans. In many circumstances, according to floor plan you may rearrange spaces, as well as increase or decrease square footages. Customization also extends to Rochester Homes' standard specifications. Ask your builder about advantageous ways that you can customize your new home.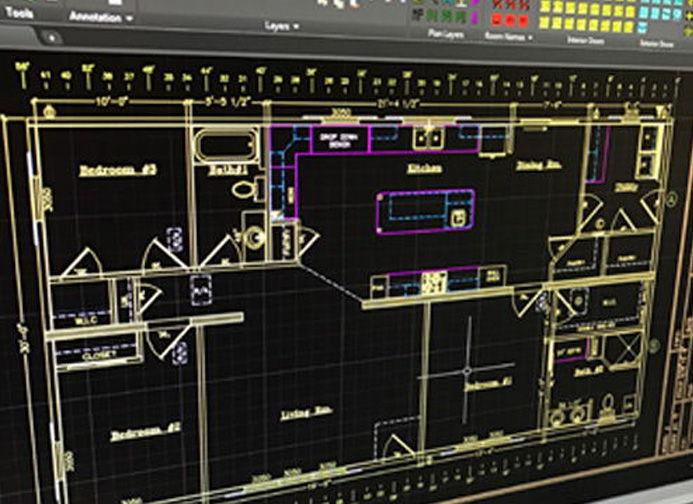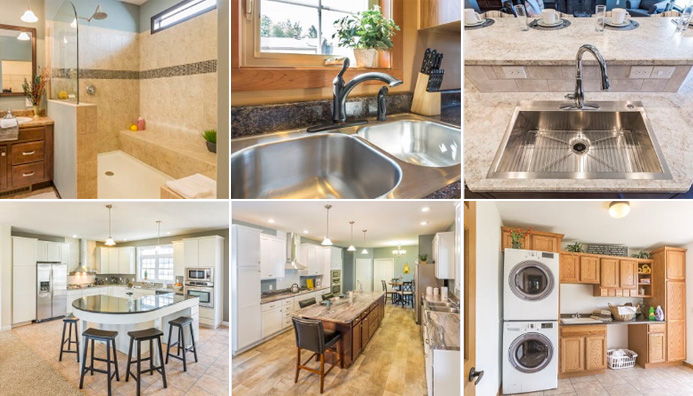 CUSTOMIZING PRODUCTS AND FINISHES
Your home is made up of literally thousands of products, many of which you can choose for yourself. Rochester Homes not only has ample standard offerings, but also literally thousands of other upgrades and finishes are available. This applies to everything from cabinetry to shingles. Your builder can help guide you through the numerous selection opportunities.
Take a Closer Look: Tour a Modular Home
Reading about a modular home is one thing, but most people need to see one for themselves to get a feel for the quality and craftsmanship that goes into a modular home.
We offer two ways to see a modular home for yourself.
Take a virtual tour or a 3D Tour of a modular home online. We offer beautiful, high resolution 3D Tours of our homes, using the latest technology to create an experience that is almost like walking through the home in real life. We encourage you to browse all of our virtual tours here if you're interested in exploring the interior and exterior views of varying floor plans.
Schedule a Tour! While a virtual tour helps you understand what a modular home looks like, there's no substitute for actually opening closet doors, feeling the carpet beneath your feet, and touching the kitchen cabinets. Rochester Homes has several model homes in various locations that are available for you to tour. Schedule a tour here.
About Modular Home Manufacturer Rochester Homes
From a legacy that spans back to 1972, Rochester Homes has always been dedicated to the theme of "People First". Founder Milam Anderson instilled that in his son Kenny. When Kenny assumed the helm this tradition of hands-on, people focused leadership lived on. This philosophy continues to this day as Rochester Homes enters its Next Generation of leadership under the guidance of Tyler Anderson and Alex Berlin.
Our philosophy: Rochester Homes embodies the Midwestern virtues of valuing people, hard work and treating others the way you would like to be treated.
Our Team: Rochester Homes has fully staffed Administrative, Sales, Purchasing, Engineering, Service, Accounting and Production departments. Below are just a few of Rochester Homes' many highly valued team members that you may come into contact with during your home building journey.